This course entails offshore, coastal sailing for significant distances with brief layovers in various ports-of-call. The Coastal Passage curriculum provides students the opportunity to experience overnight sailing as well as nighttime landfall, allowing students to take the next step towards extended ocean passage making.
Students inspect inventory, establish watch schedules, calculate ETA's in consideration of wind, weather and current conditions, and take on all primary responsibilities for ensuring a safe and enjoyable passage. Students graduate with U.S. Sailing's Coastal Passage Making certification and the ability to organize and complete future passages on their own.
7-Day Class format. Captaining knowledge and skill through Bareboat Cruising and Coastal Navigation required. U.S. Sailing Coastal Passage certification and materials included. First Mate and Crew level instruction are available.
Prerequisites:
Bareboat Cruising and Coastal Navigation knowledge and skills are required
Enrollment Package Includes
7-Day Class format
Available Certifications:
U.S. Sailing Coastal Passage certification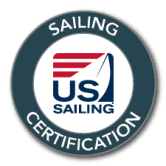 Trip duration and price per person varies depending on the destination. The course is approximately 6 - 8 days, the length of the voyage depends on the route. Taking into account the weather and the time of year, we may go north to the North Carolina coast or south to Florida. The average cost is $2880 per person.
Materials covered include:
Yacht preparation: Preparing a vessel to keep crew comfortable, happy and safe for an extended passage. Preparation includes a review of necessary provisions, the proper stowage and organization of all gear, hull design, rig configuration, sail inventory and safety gear.
Sail planning: Taking extra measures and forethought required by longer passage legs and overnight sailing. Focusing on weather, current, distance, speed, navigational strategy and float plans and abiding by the rule that captains should never to put their boats where their heads haven't been first.
Communications, computers and onboard systems: Operations and understanding technology that adds comfort to a sailor's life at sea including GPS, course plotters, diesel engines, DC electronics and refrigeration.
Heavy weather navigation and storm management: Navigating in severe weather and storm management in the event foresight fails.
Overnight Sailing, Nighttime Landfall & Advanced Coastal Navigation: Fine-tuning existing skills of bareboat cruising and coastal navigation and enjoying the new challenges of overnight watch keeping and nighttime landfall. Testing your navigation during electronic malfunctions. (You never know when the instructor might simulate a lightning strike and shut down the electronics!)
Ocean Sailing Academy teaches Coastal Passage Making with no more than four students per instructor, guaranteeing students a high level of personalized attention.
Upon completion of Coastal Passage Making (CPM), the student is eligible to receive the U.S. Sailing Coastal Passage Making Certification. To learn more about U.S. Sailings Requirements, please click here.