Master Captain Tim Vienneau
Location : Charleston, SC
Master Captain Timothy (Tim) Vienneau is an enthusiastic instructor that manages software projects in the daytime and teaches or races every spare moment.
He enjoys sharing his passion for the water with newcomers and takes serious pride in helping his students as they work to pursue their International Boating Driver's License.
Captain Tim enjoys the adventure of racing and has won Charleston Race Week, the largest sailboat race in the northern and southern hemispheres multiple times.  He is a certified US Powerboat and US sailing Instructor.
Awards
2022 Captain Tim skippered the "Peregrine" to top honors in Pursuit B, winning the third and final race to edge out Cheers (Tom Mackin) by one point. The Beneteau 456 had taken third in Race 1 and second in Race 2.
Background
2013-Present: "Peregrine" Beneteau First 456 (45 ft): Owner/Captain, Charleston Harbor and coastal waters, (90+ Sea Days)
Applicable Training and Certifications
2020 - US Sailing Basic Keelboat
2016 - Sea School Charleston, OUPV Captain
2011 - US Navy Sailing Association Intermediate Rating
2011 - US Sailing Safety at Sea Course
2010 - Certified Lifeguard
2006 - Safety at Sea Course
2006 - Operator Uninspected Passenger Vessel Training - Explorers Guide
2005 - Combat Lifesaver Training (IV fluids, etc.)
2003 -NAUI Scuba Diver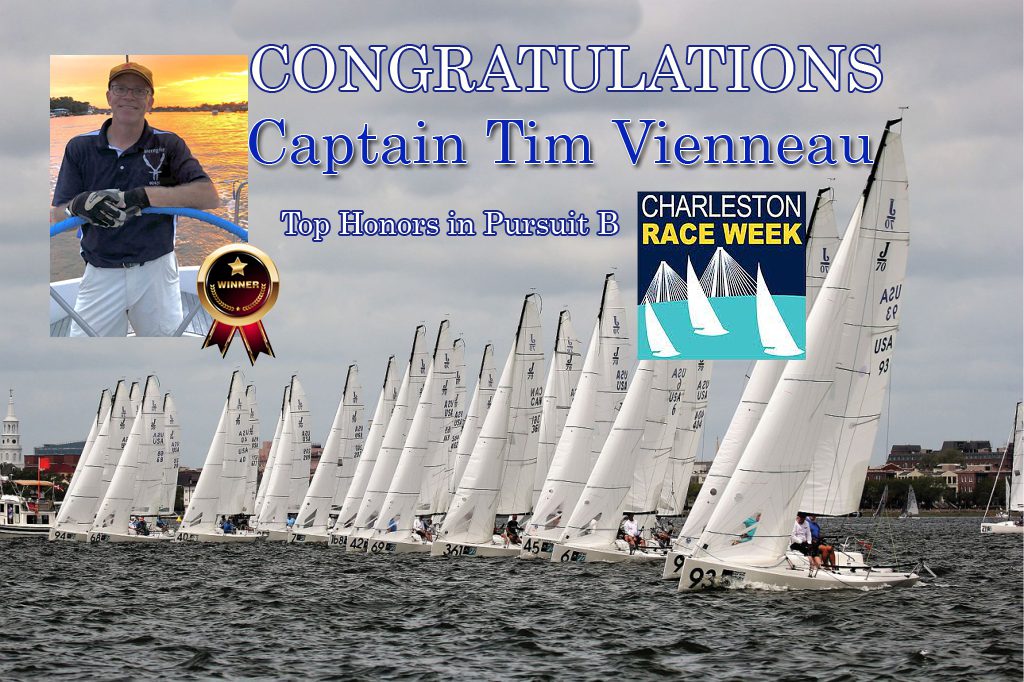 2022 Charleston Race Week -
Top Honors Pursuit B