Ocean Passage courses are non-stop, ocean sailing adventures, requiring students interested in earning the Ocean Passage Making certification to have Coastal Passage level knowledge and skill. Those who are not yet qualified to earn their certification, but who have Basic Keelboat knowledge and skill may still participate in the passage to become competent blue-water crew. First mate level instruction is also available.
This course is designed to take all sailing topics previously covered to an advanced level providing the sailor with the final ingredients for true self-reliance at sea. The Ocean Passage course includes two two-day clinics focused in Passage Preparation taken prior to enrollment in the Passage Practical. Students have several enrollment opportunities for these clinics prior to the passage dates.
Passage Practical trips vary in departure and destination but include several hundred miles and multiple 24-hour periods at sea during which students take part in a watch system. Students assume all responsibilities involved in the preparation and execution of an ocean passage - thereby preparing to complete future passages on their own. Example practicals include trips to or from Bermuda, the Caribbean or the Northeast coast of the U.S.
Prerequisites:
Coastal Passage Making knowledge and skill required.
Enrollment Package Includes
2-Day Passage Preparation Course

6-10 Day Ocean Passage Practical
Available Certifications: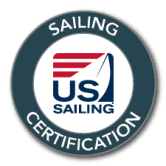 Length of passage and price depend on destination
Material covered includes:
Practical use of all skippering skills gained through Coastal Passage Making.
Offshore Yacht Preparation: Preparing to sail in a situation where a safe haven is not available for security by ensuring equipment is reliable and developing a sense of self-reliance.
Offshore Passage Planning, Navigation and Routing: Upgrading navigational strategy and planning required when sailing greater distances of open water. Fully understanding current effects, sea patterns, wave state and weather routing.
Gulf Stream: Understanding and properly utilizing oceanic currents and eddies.
Passage Weather: Advanced preparation for interpreting and forecasting ocean weather.
Offshore Communications: Understanding how to maintain contact with the rest of the world for weather, satellite telephone calls or a friendly VHF "hello" with a passing vessel.
Handling and Preparing for Emergencies: Providing medical attention onboard while at sea. Familiarity and proficient use of all personal and onboard emergency equipment.
Heavy Weather and Overboard Recovery: Focus on potential heavy weather tactics and heavy weather recovery methods.