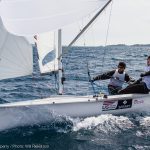 $550
3 Hours
(See Video for Details)
Our focus classes are designed for any sailor who would like to strengthen or refresh specific sailing skills.
Each class can be taught in a half-day or full-day format, although we suggest that the Spinnaker Work Focus Class be taught in the full-day format.
We currently offer the following classes with an onboard instructor:
Sail Trim: This class allows sailors of all levels to sharpen their trimming skills and make the most of any weather condition.
Docking: This class allows students to practice the most challenging part of boating in Charleston Harbor. Learn not only how to read the current and wind but also how to maneuver your vessel in close quarters.
Heavy Weather Sailing: Practice your man-overboard and reefing skills.
Spinnaker Work: Focus on all aspects of spinnaker crew work including spinnaker sets and douses and spinnaker jibes. Crew and boat safety is one of the main components in practicing these skills during this class.
Night Sailing: The first time on the water after dark, the lights of the area are throwing you off and you are not certain exactly where you are. In an unfamiliar area, the running lights that you see off in the distance are suddenly not very distant and you thought you changed course to avoid them, but they also changed course and continued heading right for you. A close call is a scary thing anytime, but in the dark, it can be much more frightening. This is the challenge of sailing at night. It is at once awe-inspiring and potentially terrifying, and to come through in good order with magical memories intact, you need to sail safe and smart. Spend some time with us on the water at night and learn some things about sail handling, collision avoidance, navigation and even docking in the dark.
To learn more call 843.971.0700